Steel Stamps and Marking Dies
Product Announcement from GT Schmidt Marking Systems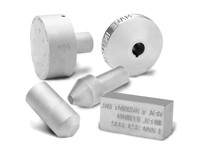 Schmidt manufactures steel stamps and marking dies that can be used in a variety of part stamping, roll marking or press marking applications.
All of Schmidt's steel stamps and marking dies are machined from raw stock to meet your tolerance requirements. Inserts are engraved flat, radial, or contoured as dictated by the application.
Schmidt machines use t-bolt and dove style die holders for flat and rectangular marking dies, as well as, knurl support carriages for round solid lettering knurls.
Available as:
Rectangular
Round
Shank Style
Combination
Embossing
---