Tag Marking, Name plate Marking
Product Announcement from GT Schmidt Marking Systems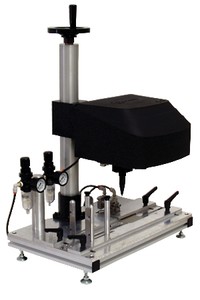 Dot Peen (Stylus) Pin Marking Machines for Nameplates
Our Styliner® Mark3 and Mark4 column mounted pin marking systems cut production time and expense with their programming flexibility and ease of operation. They can be fully automated with a part feeding system allowing the operator the ability to walk away. They are ideal for marking nameplates that require serial marking with infinite incrementing or decrementing or for automatic date and time codes. These versatile systems can also mark logos and graphics, and have true radial marking.
Standard Requirements: All shuttle feed systems are built standard to accommodate nameplates with a minimum thickness of .020". Nameplate sizes can range from 1/2" wide by 1" long up to 4" x 4". For larger nameplates, custom shuttle feeds are available.
Scribe Marking Systems for Marking Nameplates
Similar to dot peen (stylus) pin marking, these machines use a drop and drag process to form characters. This style of marking results in extremely clear character definition with an ultra quiet operation. Scribeliners are best suited for large industrial grade nameplate marking, heavy duty component parts, and thick steel frame sections in the automotive and heavy equipment industries.
Schmidt's Styliner® series of Dot Peen (Stylus) Pin Marking Systems
Schmidt's Styliner® series of dot peen marking systems are specifically designed to accommodate a variety of materials and part sizes, and are capable of marking flat, curved, convex, or concave parts, as well as, irregular and delicate surfaces.
Schmidt's Styliner® series of dot peen marking systems can apply 2D data matrix, automatic date codes, sequential serial numbers, logos, or any identification mark on your parts, sub-assemblies and finished products in accordance with ISO certification guidelines. The Styliner® series is also available in portable hand held and separate marking heads for integration. All of our dot peen markers can be increased for high speed, high productivity marking, or reduced for a fine quality continuous line appearance, suitable for finished parts.
Available Accessories for the Dot Peen Styliner® Marking Series:
These are examples of our standard accessories, we have the capability to manufacture custom accessories and tooling to solve your marking application needs.
Pneumatic Nameplate Clamping Fixtures for semi-automated marking.
Rotary Fixtures for marking round parts - a variety of sizes available.
Integrated Shuttle Feed System - for automated nameplate marking.
2D Data Matrix Reading & Verification Systems
Powered Z-Axis for automatic marking height adjustment
High-speed & extended throw stylus
Heavy-Duty Deep Marking Stylus
Sound Enclosures for noise reduction
Electric machine versions available, no air required
Mountable separate marking "S" heads for line integration
Portable hand-held pin marking systems - great for marking larger parts
Follow this link to download a brochure on Pin Marking or Nameplate Marking
---