Gage Setting and Part Measurement Systems
Featured Product from Gagemaker L.P.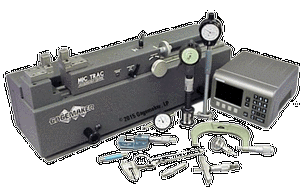 The Gagemaker Shop Floor MIC TRAC™ Gage Setting and Part Measurement System (MT-3000 Series) sets or zeros most gages with the standard resolution of .00005″, accuracies ranging from ±.0001″ to ±.0004″ (traceable to the NIST) and the digital read out is CE approved. The cost effective Force-Lok™ feature improves repeatability from operator to operator and is well suited for a variety of environments including the shop floor.
The MIC TRAC™ System is an electronic, adjustable calibration and measurement center that will inspect parts, preset indicator style gages, and calibrate a variety of hand held inspection gages. The MIC TRAC 3000 System (MT-3000) is suited for use nearly anywhere, on a shop floor to a calibration lab.
The MIC TRAC™ System contains receiver pads, which are precision ground in matched sets, and used as parallel surfaces for measuring or holding fixtures. The MT-3000's digital readout (DRO) displays measurement readings in inch or metric.*
The MT-3000 measurement system includes the base unit, which houses the optical scale and provides the system's precision measuring capability. The base unit may include an optional Force-Lok™ feature that provides a constant measurement force, which improves repeatability from operator to operator. A computer may be substituted for the system's digital readout unit (DRO). This computer comes pre-installed with our CERTIFI™ Gage Calibration software and our TDWin™ Thread Engineering software.
For gage calibration, the optional CAL-PAK fixture package can be included with any MIC TRAC™ system. The CAL-PAK is an assortment of fixtures that attach to the base unit for holding gages securely during the calibration process. Proper positioning of the gage improves the accuracy of the calibration and provides more consistent results.
To help you with your decision process, we've created a quick and easy Return on Investment Calculator based on one of our most popular MT-3000 calibration bundles (a MT-3012F-50-USBC and a CAL-PAK fixture set) and the number of calibrations (each instance of each gage) you do per year below.
Delivers high accuracy in a variety of environments including the shop floor
Serves as a setting master for gages produced by various manufacturers
Provides fast, accurate dimensional part measurements
Ensures measurement repeatability from operator to operator using force lok accessory
Calibrates hand-held gages in-house for faster turnaround
Accuracies to .0001″ (2.54µ) traceable to the NIST
Resolution of .00005″
State of the Art Assembly of Internal Glass Scale, Precision Linear Bearing and a Set of Precisely Lapped Measuring Blocks
Electronic Adjustable Measurement Master with Ranges from 0″ to 12″ (Units Up to 60″ Ranges)
Digital Readout Provides Measurement Reading in Inch or Metric
Durable Construction Allows Use in Practically Any Environment
Unique Force Lok feature available if you plan to measure parts or calibrate certain standards. It improves repeatability from operator to operator