Coaxial &Triaxial Cables...your specifications
Product Announcement from Galaxy Wire and Cable, Inc.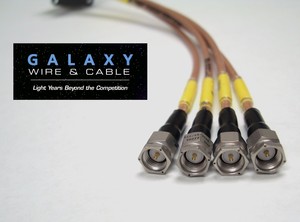 Galaxy Wire and Cable, Inc. can design and manufacture high-performance coaxial and triaxial cables for a broad range of applications. Cables can be manufactured using a number of dialectric materials and jacketing compounds. Whether it be a typical 50 Ohm coax or a much more intricate design, let Galaxy Wire & Cable go to work designing what you need.
Galaxy can assist you in engineering the most difficult of constructions. We pay special attention to the electricals of your cable, including impedance, attenuation, capacitance and resistance. No construction is too difficult for Galaxy.
---