Cable Assemblies Molded ...custom specifications
Product Announcement from Galaxy Wire and Cable, Inc.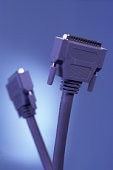 Galaxy Wire & Cable custom molded cable assemblies are thoroughly tested for durability, flexibility, and continuity. All cables are assembled, tested, potted in a pre-molding process, re-tested and then finally molded. A final test is then performed to ensure absolute continuity. Your part number and company logo can also be added to the cable.
Custom Designed Assemblies
DB9
DB15
DB25
Molded Coil Cords
Molded Din
Molded Mini-Din
Multiple Outlet
Molded Power Cords
European and International Cord Sets
HAR/CE Approved Cords
Today's market is volatile with rising copper and compound costs. Let Galaxy design a custom stocking program for you to secure better pricing and alleviate lead times.
---