IOC-7007 Ethernet I/O Controller
Product Announcement from Galil Motion Control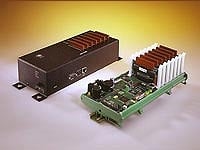 Galil's IOC-7007 has a 100 Base-T Ethernet port making it an ideal I/O solution in an Ethernet network. It allows easy integration of Galil's Ethernet motion controllers with I/O and eliminates the need for an external PLC.
The IOC-7007 is programmable and includes 500 lines of non-volatile program memory, variables, arrays and multitasking for concurrent execution of up to eight different programs. The controller also includes 1 PLC thread with deterministic timing. The programming language is similar to Galil's motion controller language allowing seamless integration of motion and I/O.
The IOC-7007 is available as a packaged unit , as a DIN rail mount unit , or as a card-level unit. The box-level version accepts 90-260 VAC or 20-60 VDC. The DIN rail and card-level unit accept 20-60 VDC.
Key Features:
· Intelligent Input/Output "IOC" controller includes 32-bit microcomputer with memory and multitasking for programming I/O events.
· Install up to seven plug-in "IOM" modules to handle many input and output functions.
· "Mix and Match" I/O modules to meet specific requirements. I/O modules for:
· 16 TTL Inputs
· 8 optoisolated inputs
· 8 optoisolated outputs
· 8 high power outputs
· 4 dry contact relays
· 8 analog inputs
· 8 analog outputs
· Interfaces with other Galil motion controllers or I/O devices via Ethernet
· Ethernet 10/100 Base-T with auto-negotiate function for communicating with 100 Base-T or 10 Base-T devices;One RS232 port up to 19.2kb
· Supports MODBUS in both master and slave mode for interface to other MODBUS devices.
· I/O commands and programming are similar to Galil motion controller programming. Additional commands for I/O processing and PLC functions. Easy integration of Galil Ethernet motion controller with IOC-7007
· 8 multitasking threads for simultaneous execution of multiple I/O programs. One additional thread for PLC mode
· PLC mode for fast I/O scans with deterministic timing
· Fast command processing time--less than 100 microseconds
· Non-volatile memory includes 500 line x 80 chr program space; 126 symbolic variables; 1000 elements in up to 14 arrays
· Accepts 90-260 VAC 50/60 Hz or 20-60 VDC
· Packaging options include: metal enclosure, DIN rail mount, or card-level
· 20-pin molex connectors for easy interface to I/O modules
---