Measuring Combustion Health for CHP Cogeneration
Featured Product from Gantner Instruments, Inc.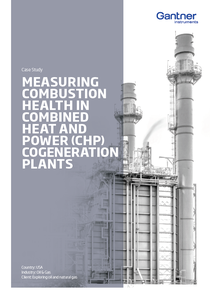 Measuring combustion health in combined heat and power (CHP) cogeneration plants
In this application, a distributed monitoring system continuously analyzes the combustion health of a dual-fuel combustion turbine from a central control room of a 300 MWe cogeneration plant.
Testing System
The Gantner solution incorporates 1 data acquisition (DAQ) system with a total of 12 input channels for measuring vibrational or pulsating voltage with an OPC-UA interface included that enables direct communication with our client's SCADA system and historian software.
Specials
Piezoelectric Pressure Transducers with an operating temperature of up to 560°C
Operating pressure of up to 400 psi with a 20 psi normal dynamic range
High data rates of up to 100 kHz at 16 channels 10 kHz at 128 channels
Download the case study for more detailed technical information on the distributed monitoring system used in this application.