Q.station X: Performance Edge Monitoring & Control
Featured Product from Gantner Instruments, Inc.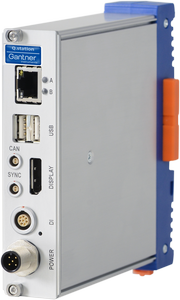 Q.station X – Edge Device for High-Performance Monitoring and Control, Remote Configuration and Universal Connectivity
Q.station X is a high-performance edge controller for data acquisition, which provides accurate synchronization of measurement data, high-speed redundant data logging, and parallel communication over TCP/IP, CAN, ProfiNet, Modbus, and EtherCAT. The Q.station X comes with an optional full-featured programmable application controller designed for complex control and automation tasks.
Advanced Features Matching Your Needs
Interfaces
Ethernet TCP / IP
EtherCAT (with module extension)
ProfiNet (with module extension)
RS-485: up to 48 Mbps
CAN
Data storage
RAM [MB] / Flash [MB]: 500 / 4000
SD card
USB expandable: 2 slots
Connectivity
Configuration (local or remote) via GI.bench
Modem (optional external device)
GI.cloud connection
DAQ Modules
Number of DAQ modules: Connect up to 64 different Q.series X modules
6 digital inputs
Data logging / Control
Sampling rate up to 100 kHz (with Q.boost A101 up to 4MHz sampling)
Continuous / event-based logging
Number of data loggers with arithmetics, 20
Programming
Programmable edge computing functionality real time / non real-time
Apps (external) can be installed
Display with touch (optional)
Typical power consumption [W]: < 12W
Discover the Q.series X from Gantner Instruments
The DAQ modules can be installed close to the point of measurement and connected to the controller. This reduces cable clutter and is user friendly. Also, notably, measurements are less prone to noise due to short sensor cables.
The ideal DAQ solution for on-the-go applications requiring higher performance in potentially harsh environments.
Multi-channel Measuring System
Efficient distributed DAQ with high-precision synchronization and gradual expansion up to thousands of channels.
Check out the Gantner Instruments DAQ product lines compatible with the Q.station X
Q.bloxx XL - The DIN-rail Mount design of Q.bloxx XL provides the most flexibility and the most attractive price point, especially in smaller Systems.
Q.brixx XL - The Q.brixx XL system takes the functionality of the Q.series and delivers it in a scalable and portable package housed in a rugged aluminum enclosure.
Q.raxx XL - The Q.raxx XL is Gantner Instruments' newest, most flexible, and highest performing 19″ rack solution – the perfect solution for applications that require high channel density and custom sensor terminations.
Do you have any questions?
Please contact our measurement technology experts at orders.us@gantner-instruments.com.