Compressed Air & Vacuum Systems Brochure
Product Announcement from Gast Group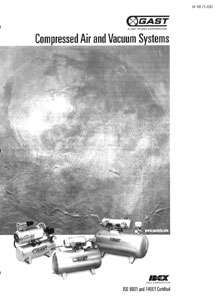 Gast Manufacturing, Inc., a Unit of IDEX Corporation, has released a new version of its Compressed Air and Vacuum Systems brochure. The brochure includes: Technical data, accessory section, and typical applications, as well as new models added to the line.
Gast compressed air and vacuum tank systems range from 2 gallon to 60 gallon. Gast compressed air and vacuum tank systems are just a sample of Gast's extensive line of air moving products which include vacuum generators, regenerative blowers, air motors, vacuum pumps and compressors in a wide variety of technologies.
Since 1921, Gast has been recognized as a world leader in the manufacture of vacuum pumps and compressors. These products have been engineered and manufactured to meet the demands of some of the critical applications, ranging from industrial production machines, where shutdowns can be costly, to a wide variety of medical equipment demanding 100% dependability.
Tanks systems that can be designed to make small pumps do big jobs are a natural extension of the Gast line. That's why Gast, the original equipment manufacturer's manufacturer is extending its expertise into tank systems for hospitals, medical clinics, pneumatic temperature control, dry sprinkler systems, automatic doors, beverage dispensers, dental equipment, and vacuum forming, to mention just a few applications.
If you're considering a tank system for an application that requires oil-free air, long life, minimum service, and maximum dependability, Gast has one for you.
Please click on the links to the right or download the catalog today!
---