Waterproof Environmentally Sealed LCD Monitor
Product Announcement from General Digital Corporation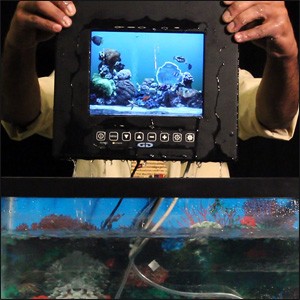 Designed for dependable duty far beyond the desktop, General Digital's Barracuda™ Series adds an extra level of protection to its rugged LCD monitor line. Sealed to IP67 and NEMA 4/6 standards, the Barracuda offers protection against contamination from blowing dust, falling dirt or debris, rain, sleet, snow, splashing fluids, hose-directed liquids, external formation of ice on the enclosure and submersion in water (up to 1 meter depth) for up to 30 minutes.
The Barracuda is ideally suited for dusty or wet conditions typically found in industrial, military or marine environments, such as food handling, outdoor kiosks, ships, docks, or anywhere a monitor is exposed to changing weather conditions.
Ideal for industrial, military, marine, or any outdoor application exposed to nature's elements
Variety of standard display sizes and resolutions available from 6.4" to 24.0"
Standard luminance, daylight readable, sunlight readable and NVIS-compatible displays
Dust- / water-tight enclosure and connectors
Will survive submersion in water to a depth of 1 meter for up to 30 minutes
Will not leak when exposed to forced water, at a rate of 65 gallons per minute, from a 1-inch nozzle, at a distance of 10 feet (for at least 5 minutes)
Benefit from General Digital's vast experience in designing to meet commercial, industrial, avionic, and military standards
Aluminum construction with black powder coat paint (default)
Available in standalone, panel mount and rack mount configurations
VESA mounting holes on the rear to support a variety of pedestals and mounting arms
Liquid-tight gore vent equalizes internal pressure without allowing water to pass
Optional stainless steel enclosures available for NEMA 4X requirements
Fully sealed industrial-grade or military-grade circular connectors
Configurable to support various types of video inputs, touch (USB or Serial), power, and more
Analog VGA (composite, separate or Sync-on-Green)
DVI, NTSC, S-Video
Serial Digital Interfaces (HD-SDI, SD-SDI)
STANAG 3350 A, B and C support
LED backlight: low power, long life, rugged, solid-state design
Designed to meet IP67 and NEMA 4/6 requirements
Select from an existing enclosure or request a custom/semi-custom design
Rugged Enclosure
Connectors
Video Controllers: variety of price vs. performance designs to choose from with support for
Options include: touch screens, vandal shields, optically bonded overlays, EMI / RFI filters, heaters, NVIS filters, circular polarizers / ¼-wave retarders, power supplies, cables and much more
Used...
...by the U.S. Coast Guard as Portable Information System Displays on Coast Guard Cutters
...by Joint Armed Forces as Portable Information System Displays on International Law Enforcement Vessels
...within Human Operator and Autonomous Mining Machinery
Learn more about the Barracuda or contact a sales engineer for more information.
Phone (Domestic & International): 860.282.2900
Toll-Free (U.S. & Canada Only): 800.952.2535
---