Flip-up and Flip-down LCD Monitors
Product Announcement from General Digital Corporation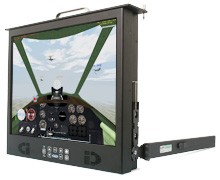 Flip Up Monitors & Flip Down Solutions From General Digital
Flip down and flip-up monitors have become quite necessary in a variety of industrial and military applications.
Flip-up monitors and flip-down monitors from General Digital are made to "go to work." If you're trying to find a rugged, widescreen LCD monitor that can live up to the qualifications of military-grade tests, you've come to the right place.
Some environments just aren't made for the everyday consumer-grade flip-down or flip-up monitor display. Industrial workstations typically require rugged flip-down monitors, and typical monitors lack the ability to survive the wear and tear of military and industrial environments.
Flip-Up Monitors that Outclass the Competition
For companies that need a flip-out monitor built to handle their industrial workload, monitors from General Digital are the answer. Our LCD monitors and computers have always provided longevity and durability to customers. As we enter our fourth decade providing flat panel products to the market, our monitors continue to best the competition with:
LCD displays range from 15 inch to 20 inch (ask about other sizes)
the configuration to include a rack mountable, overhead ceiling mount, or wall application
rugged, all-metal construction
customer-driven design and configuration control
support for screen resolutions up to 1920 x 1200 pixels (scaled)
high performance LCD video controllers
Mountable LCD models from General Digital meet the standards of all users with durability, simplicity, adaptability, and affordability. We have several flip-down models ideal for military and commercial uses that require in-vehicle use due to light weight and convenient mobility. General Digital monitors operate on a single +12V or +24V regulated source, available for purchase directly from us or customer supplied.
Flip-Down LCD Monitor Products & Flip-Up Screens
Every panel mount or rack mountable LCD monitor from General Digital comes enclosed with all metal panels. All of our monitors and flip mount kits are manufactured for performance where durability is at a premium. In comparison to other LCD monitors, the rugged enclosures on our products are designed to be used in harsh settings. For commercial, industrial and military applications, the durability our monitors provide to users is top of the line.
In addition to manufacturing flip-up monitors and LCD flip downs for commercial, industrial and military applications, General Digital also highly values business partnerships with VARs and OEMs. Incorporating our monitors while simultaneously maintaining company identity on our products through our private labeling services can be a boost to your bottom line.
Phone (Domestic & International): 860.282.2900
Toll-Free (U.S. & Canada Only): 800.952.2535
Read more about our rugged flip-up and flip-down LCD monitors and find the best one to suit your needs.
---