Standalone/Mountable LCD Monitor
Product Announcement from General Digital Corporation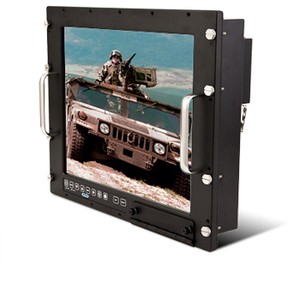 The Saber GD Series flat screen displays are housed in rugged, yet stylish, enclosures designed to endure hazards that are typically associated with industrial and military COTS applications. A durable, matte black powder coat exterior resists scratches and fingerprints while also reducing reflected light. Industry standard VESA mounting holes heighten design flexibility by facilitating installation through the use of various pedestals, cradles and articulating arms.
The monitors' TFT LCD provides users with brilliant, colorful images, and a response time fast enough for viewing your favorite DVD. A protective glass overlay, with double-sided antiglare etch coatings, guards your LCD investment and diffuses surface glare. Modular adaptability is the Saber CMG Series' domain. The turnkey flat panel monitors consist of vibrant LCD displays, full-featured analog video controllers and rugged aluminum enclosures.
The low power Saber CMG Series is designed to operate from a single +12V regulated source. Customers can provide their own power supply, request a custom supply, or choose from two standard power supply configurations (attached or separate module) featuring a power-factor-corrected AC switching supply. Additionally, the Saber CMG Series is designed with the intent to meet UL 60950 and FCC Class A Certification.
Sunlight readability is achieved using our GenFlective™ technology, which is a passive approach to brightness and contrast enhancement. Using a proprietary combination of reflective, brightness and contrast enhancing films, sunlight readable performance is achieved. General Digital developed GenFlective technology to improve daylight and sunlight readable brightness and contrast performance without increased power consumption, heat emission, and backlight augmentation. Another benefit is increased backlight bulb life expectancy.
Turnkey Standalone / Mountable LCD Monitor Ideal for OEMs, System Integrators and VARs
Vibrant, High Resolution LCD Displays from 6.4" to 24"
All of our active matrix TFT LCD panels offer up to 16.7 million colors, wide viewing angles, and fast response times (suitable for live video)
Modular Enclosure Facilitates Customer Integration
Bezels and Enclosures are Constructed from Sturdy, Lightweight Aluminum
Designed with the Intent to Meet FCC Class A Certification
Promotes Configuration Control and Extended Product Life Cycle (OEMs, Military)
Low Power (+12 VDC) Operation
High Performance LCD Controller
Internal to our LCD monitor is an LCD controller that converts analog video signals into the proper digital signals required to drive the display
Supports Resolutions up to 1600 x 1200 Pixels
Supports Separate, Composite, Sync-on-Green and STANAG 3350 A, B, C SoG Analog Video
Intuitive, Front-Accessible User Controls
Optional Support for NTSC, SECAM, PAL, S-Video and RS-170 Live Video
Optional Support for DVI-A, DVI-D and DVI-I Analog, Digital and Integrated Video
Optional Support for HDMI (High Definition Multimedia Interface) Video
Daylight and Sunlight Readable Displays Available
Variety of AC Switching and DC-DC Power Supplies Available
Many More Options and Accessories Available
Phone (Domestic & International): 860.282.2900
Toll-Free (U.S. & Canada Only): 800.952.2535
Used...
...by the U.S. Navy on Various Sea Vessels, Including Destroyers, Aircraft Carriers, Command Ships and Others
...with Touch Screens by the U.S. Marine Corps Utilized Within the Internal Cabin of the M1 Abrams-based ABV (Assault Breach Vehicle)
...by the U.S. Air Force for F-15 Eagle Aircraft Field Service and Diagnostics, and as a Video Information Display for Air Force Air Traffic Control, and a Sunlight Readable Model is Used with LCD heaters for UAV (Unmanned Aerial Vehicle) Navigation for Intelligence, Reconnaissance and Surveillance
...by the U.S. Army on Zodiac Boats
...by the U.S. Coast Guard with Sync-on-Green Video Input Capability for Legacy Computer and Image Processing in Surveillance Activities, and Sunlight Readable Models are Used on Coast Guard Cutters
...in Air Traffic Control in Standard and Sunlight Readable Brightnesses on STARS as the Supplemental Display to Our GenStar, and as a Video Information Display for Naval Air Traffic Control
...for Use in MRI (Magnetic Resonance Imaging) Rooms, and for Weather Systems and Radar Aboard U.S. and Foreign Coast Guard Aircraft, and Sunlight Readable Models are Used with a Live Video Option for the New York City Transit Authority Passenger Safety and Surveillance Systems
...for Use Within Passenger Boarding Bridges at Commercial Airports
Read more about the rugged, mountable Saber Standalone LCD monitor and sunlight readable Saber Standalone Solar LCD monitor.
---