2U Flip-Up LCD Monitor/Keyboard
Product Announcement from General Digital Corporation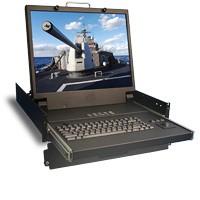 General Digital's SlimLine Lite II™ Series is a rugged man-machine operator interface that is designed to replace the traditional CRT and keyboard with a compact, lightweight and durable alternative. The SlimLine Lite II 15.0", 17.0", 19.0" and 20.1" LCD Monitor/Keyboard/Trackball units are intended for use in commercial, industrial and military applications, either as a portable/desktop device or as a rack mounted solution.
The SL2 Series feature high contrast, wide viewing angle LCD displays that function as seamless replacements for a CRT, interfacing directly to your existing analog video graphics card. An On-screen Display (OSD) with intuitive menus allows end users to calibrate the Analog-Digital Video Interface to optimize its performance.
Physically, the SlimLine Lite II resembles a laptop computer. The LCD panel is mounted in a "display head," while the keyboard and pointing device are mounted in the main enclosure. Unlike a laptop that is housed in a plastic enclosure, the SlimLine Lite II monitors are packaged in rugged aluminum housings. The display heads pivot 115 degrees on user-adjustable friction hinges that allow users to adjust the viewing angle of the display for optimum performance. The torque on the hinges can be adjusted to suit the shock/vibration of each application.
The standard SlimLine Lite II product line is configured with an industrial PS/2-compatible, 83-key (101-key functionality), "laptop-style" keyboard and trackball pointing device (KPD). Optionally, one of several ruggedized KPDs can be specified which feature 82 keys and a sealed 1-3/8" trackball. Customers can select a commercial-grade KPD or a robust, industrial-grade, backlit KPD or a military-grade model that features red LED backlighting, EMI filters, surge protectors, shock sensing, keycap clips, and brightness control. Many KPDs meet military standards for sealing and shock/vibration.
When configured with General Digital's 19" Rack Adaptor Kit (Part No. 90-753 or 90-754), the SlimLine Lite II Series can be integrated into a standard (RETMA) 19" rack chassis. The 19" Rack Adaptor Kit features a sleeve that attaches directly to the rack chassis. A pair of roller bearing slides facilitate the installation of the devices into the sleeve, allowing them to easily slide in and out of the rack for storage and operation.
Low Profile 2U (3.50") Flip-Up Display Enclosure
Rugged All-Metal Construction
Integral Keyboard / Pointing Device
Commercial, Industrial, Military Grades
Torque-Adjustable Friction Hinges
Total Design Control Facilitates Customization
Promotes Configuration Control and Extended Product Life Cycle
LCD Displays from 15.0" to 20.1" Diagonal Viewing Area
Our active matrix TFT LCD panels offer up to 16.7 million colors, wide viewing angles, and fast response times (suitable for live video)
Protective Glass Overlay with Sealed Gasket on Select Models
High-Performance LCD Controller
Internal to our LCD monitor is an LCD controller that converts analog video signals into the proper digital signals required to drive the display
Supports Resolutions up to 1920 x 1200 Pixels (Scaled)
Supports Separate, Composite, Sync-on-Green and STANAG 3350 A, B, C SoG Analog Video
Advanced Imaging Features
Laptop-style Enclosure Requires Least Amount of Operator Workspace in its Class
Most Keyboard / Pointing Devices Meet Military Standards for Sealing and Shock / Vibration
Several Models Customer Certified to MIL-STD-810, MIL-STD-901 and TEMPEST Level 2
Optional CAC (Common Access Card) Reader Utilizing ActivIdentity® Smart Card Readers
Optional Support for NTSC, SECAM, PAL, S-Video and RS-170 Live Video
Optional Support for DVI-A (Analog), DVI-D (Digital) and DVI-I (Integrated) Video
Optional Support for HDMI (High Definition Multimedia Interface) Video
Optional LED Backlight for:
Mercury-Free Applications
Daylight/Sunlight Readable Levels of Brightness
Daylight and Sunlight Readable Displays Available
Standalone and Rack Mount Power Supplies Available
Cable Management System and MIL-901 Enhancement Package Available
Many More Options and Accessories Available
Private Labeling Available
Phone (Domestic & International): 860.282.2900
Toll-Free (U.S. & Canada Only): 800.952.2535
Used...
...by the U.S. Navy on Various Sea Vessels, Including Destroyers, Aircraft Carriers, Command Ships and Others
...by the U.S. Navy with a Smart Card (CAC: Common Access Card) Reader Employed Within CANES (Consolidated Afloat Networks and Enterprise Services) and LCS (Littoral Combat Ship) Programs
...by the U.S. Marine Corps with Sun Microsystems Netra™ Servers Within ECS™ Transit Cases for GCCS-M (Global Command and Control System-Marines) Program
...by the U.S. Air Force for F-15 Eagle Aircraft Field Service and Diagnostics, and for Surveillance Via Infrared Imaging on P3 Orion Aircraft
...by U.S. Joint Armed Forces in Hardigg™ Transit Cases for Comprehensive Radar, Telemetry and Communications Operations
...for Field Servicing of Fuel Pipeline Terminals and Test Stations
Read more about the rugged flip-up rack mount SlimLine Lite II LCD monitor and the sunlight readable SlimLine Lite II Solar LCD monitor.
---