1U Flip-Up LCD Monitor
Product Announcement from General Digital Corporation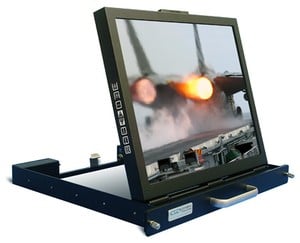 Optimized for its low profile (1.75" high), the SlimLine Micro™ Series is designed to save valuable rack space, and expense, by providing a reliable and user-friendly operator interface. The SlimLine Micro's compact design and industrial durability, combined with General Digital's legendary configuration control and long product life cycles, make it the ideal rack mount solution for network administration, telecommunications, mobile applications (transit case), and more.
The enclosure is constructed from a combination of steel and aluminum, providing a cost-effective, lightweight housing that can be used in most commercial/industrial applications, yet is rugged and robust enough for military use. Use of continuous-friction hinges permit the viewing angle of the display head to be user adjusted over a usable range of greater than 90 degrees. A spring coil latch is used to secure the display while it is stowed to minimize vertical "chatter" when subjected to shock and vibration. A pair of chassis slides facilitate rack mounting and ease of operation. Interface connectors for the input power are located on the rear of the device, and face inward to reduce the overall depth of the system.
The SlimLine Micro Series is available with an integrated 15.0", 17.0" or 19.0" (diagonal) LCD, offering a wide selection of price vs. performance options from which to choose. Regardless of the display size selected, all of the LCD displays offer the latest advances in LCD technology, providing users with high brightness/contrast images, fast response time (suitable for live video) and wide viewing angles.
Customers may also select from a list of supported video controllers to achieve the desired balance of price and performance. All of the video controllers are operated via intuitive On-screen Display (OSD) menus that are controlled via a membrane panel. Advanced features such as Live Video support, Picture-in-Picture (graphics + video) and Image Rotation are supported on specific controller configurations.
All SlimLine Micro units are configured to operate from regulated +12 VDC. For those customers who do not wish to provide their own supply, General Digital offers a selection of rack mounted and standalone AC switching or DC-DC power supplies. Cable management systems are also available.
Ultra-Low Profile 1U (1.75") Display Enclosure that Flips Up, Down or Out (depending on configuration)
Easily Mountable to Rack, Ceiling or Wall
Rugged All-Metal Construction
Continuous Friction Hinges Pivot Display 90°
Spring Coil Latch Secures Display in Stowed Position
Low Power (+12 VDC) Consumption
Total Design Control Facilitates Customization
Promotes Configuration Control and Extended Product Life Cycle
LCD Displays from 15.0" to 19.0" Diagonal Viewing Area
Protective Glass Overlay with Sealed Gasket on Select Models
High Performance LCD Controller
Supports Resolutions up to 1920 x 1200 Pixels (Scaled)
Supports Separate, Composite, Sync-on-Green and STANAG 3350 A, B, C SoG Analog Video
Designed to Meet TEMPEST Level 2, MIL-STD-901D, MIL-STD-810E, MIL-STD-810F, MIL-STD-461E, and MIL-STD-167B
Advanced Imaging Features
Optional Support for NTSC, SECAM, PAL, S-Video and RS-170 Live Video
Optional Support for DVI-A (Analog), DVI-D (Digital) and DVI-I (Integrated) Video
Optional Support for HDMI (High Definition Multimedia Interface) Video
Optional Night Vision (NVIS) Goggle Compatibility per MIL-STD-3009
Optional Audio Add-on Board Provides Volume Control for Stereo Speakers
Optional LED Backlight for:
Mercury-Free Applications
Daylight / Sunlight Readable Levels of Brightness
Multitude of Optional Keyboard / Pointing Devices Available (Commercial, Industrial, Military)
Most Optional Keyboard / Pointing Devices Meet Military Standards for Sealing and Shock / Vibration
Daylight and Sunlight Readable Displays Available
Standalone and Rack Mount Power Supplies Available
Cable Management System Available
Many More Options and Accessories Available
Private Labeling Available
Phone (Domestic & International): 860.282.2900
Toll-Free (U.S. & Canada Only): 800.952.2535
Used...
...by the U.S. Navy on Various Sea Vessels, Including Destroyers, Aircraft Carriers, Command Ships and Others
...by the U.S. Army for Rugged C4I Forward Deployed Ground Stations on the CGS (Common Ground Station) Program
Read more about the rugged flip-up rack mount SlimLine Micro LCD monitor and sunlight readable SlimLine Micro Solar LCD monitor.
---