Dual Flip-Up Displays with Keyboard
Product Announcement from General Digital Corporation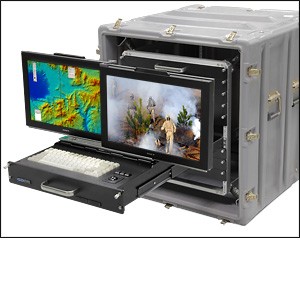 The TwoView™ Series dual LCD monitors/keyboard/trackball is optimized for its low profile (3.50" high) and designed to save valuable rack space while increasing your video content capacity.
The TwoView's compact design and industrial durability, combined with General Digital's legendary configuration control and long product life cycles, make it the ideal rack mount solution for network administration, telecommunications, mobile applications (transit case), and more.
The enclosure is constructed from a combination of steel and aluminum, providing a cost-effective, lightweight housing that can be used in most applications. Two large format display heads unfold and slide laterally to provide twice the viewing capacity.
A spring coil latch is used to secure the displays while they are stowed to minimize vertical "chatter" when subjected to shock and vibration. A pair of 24" long chassis slides facilitate rack mounting and ease of operation. Interface connectors are located on the rear of the device. The overall depth of the system is 24".
The TwoView Series is available with integrated 15", 17", 19" or 20" (diagonal) LCDs, offering a wide selection of price vs. performance options from which to choose. Regardless of the display size selected, all of the LCD displays offer the latest advances in LCD technology, providing users with high brightness/contrast images, fast response times (suitable for live video) and wide viewing angles.
Customers may also select from our current offering of supported video controllers to achieve the desired balance of price and performance. All of the video controllers are operated via intuitive On-screen Display (OSD) menus that are controlled via a membrane keypad. Advanced features such as Live Video support, Picture-in-Picture (graphics + video) and Image Rotation are supported on specific controller configurations.Additionally, users can choose from General Digital's list of approved keyboard/trackball combinations to satisfy their specific requirements.
Low Profile 2U (3.50") Flip-Up Dual Display Unit
Rugged All-Metal Construction
Integral Keyboard/Pointing Device (Commercial, Industrial, Military)
Total Design Control Facilitates Customization
Promotes Configuration Control and Extended Product Life Cycle
LCD Displays from 15.0" to 20.1" (Diagonal Viewing Area)
Protective Glass Overlay with Sealed Gasket on Select Models
High Performance LCD Controller
Supports Resolutions up to 1920 x 1200 Pixels (Scaled)
Advanced Imaging Features
Supports Separate, Composite, Sync-on-Green and STANAG 3350 SoG Analog Video
Laptop-style Enclosure Requires Least Amount of Operator Workspace in its Class
Most Keyboard / Pointing Devices Meet Military Standards for Sealing and Shock / Vibration
Optional Support for NTSC, SECAM, PAL, S-Video and RS-170 Live Video
Optional Support for DVI-A (Analog), DVI-D (Digital) and DVI-I (Integrated) Video
Optional Support for HDMI (High Definition Multimedia Interface) Video
Optional LED Backlight for:
Mercury-Free Applications
Daylight/Sunlight Readable Levels of Brightness
Daylight and Sunlight Readable Displays Available
Standalone and Rack Mount Power Supplies Available
Cable Management System Available
Many More Options and Accessories Available
Private Labeling Available
Phone (Domestic & International): 860.282.2900
Toll-Free (U.S. & Canada Only): 800.952.2535
...by the U.S. Navy on Various Sea Vessels, Including Destroyers, Aircraft Carriers, Command Ships and Others
...by the U.S. Marine Corps for Use Within Humvees and ECS Transit Cases for the CONDOR (Command and Control On-the-Move Network, Digital Over the Horizon Relay) Program
...by the U.S. Army for Use Within Humvees and ECS Transit Cases
...by Joint Armed Forces for Aircraft and Ground Vehicle Systems for C4I Applications
...in Forward Deployed Interim Air Traffic Management Stations
Read more about the rugged dual flip-up TwoView LCD monitors / keyboard and the sunlight readable TwoView Solar LCD monitors / keyboard.
---