Clogged Drains? No Problem with Mini-Rooter Pro
Featured Product from General Pipe Cleaners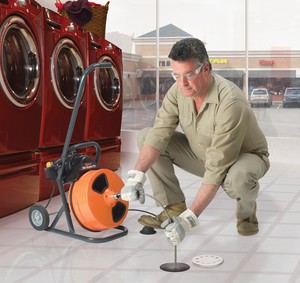 Tired of carrying your drain cleaning machine to the jobsite? Now you don't have to. General's new Mini-Rooter Pro® sports wheels to make it easier for you to transport it to and from the job, and a folding handle for complact storage in your truck.
The Mini-Rooter Pro clears drains from rooftop to basement, including kitchen, bath, and laundry drains. This tough little machine really saves time and trouble. For instance, you can remove the drum in seconds for more portability or to switch to a different diameter cable - with no mess or lost time.
The drum carries up to 75 ft. of 3/8" or 1/2" Flexicore cable to clear 2", 3", and most 4" lines. For small drain work, you can order your Mini-Rooter Pro with a J-Drum for handling smaller, more flexible cables. An optional Power Cable Feed drives and retracts the cable at up to 16 ft. per minute.
A variable speed Power Cable Feed (optional) drives and retracts the cable at up to 16 ft. per minute. It quickly adjusts between 3/8" and 1/2" cables without the need for tools or additional parts. It swings out of the way to make drum changing as easy as ever. For smother performance, switch to the XP drum with inner drum cage.
Flexicore cables are made of heavy-gauge wire coiled tightly around 49-strand aircraft type wire rope and heat treated. It has unequalled strength and the right amount of flexibility. So tough it carries a one-year warranty against defect or breakage.