Clear Clog Drains Fast with Kinetic Water Ram™
Featured Product from General Pipe Cleaners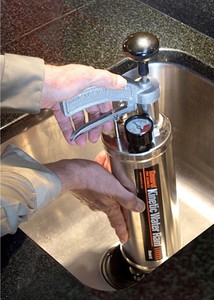 The Kinetic Water Ram™ is a compact, light weight tool for quickly opening clogged sinks, toilets and tubs. It handles rust, grease, sediment, and scale in lines up through 4" in diameter. Anyone can use it- just pump the Water Ram, insert it into a drain, and snap the trigger. It's that quick!
The Kinetic Water Ram™ uses a burst of compressed air that drives a shock wave (kinetic energy) through water to break up stoppage. It's particularly useful when the stoppage is on the far side of a drum trap or series of tight bends, since the shock wave can travel around bends without losing its force.
Click here to learn more about the Kinetic Water Ram™.