Economic Alternative to High Pressure Water Jets
Featured Product from General Pipe Cleaners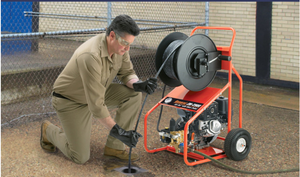 JM-2900 Jet-Set® Gas Jet - Big Machine Features at a Bargain Price.
General Pipe Cleaners' JM-2900 Jet-Set® Gas Powered Water Jet is an economical alternative to high pressure gas water jets. It's lighter and more maneuverable, yet maintains the same pressure and flow rate of its big brothers. It's driven by a 389 cc Honda engine connected directly to a 3000 psi, 4 gallon per minute triplex pump with Vibra-pulse® on demand.
The 200 ft. capacity hose reel with drag brake, reel lock, and swivel is mounted on a very maneuverable heavy duty frame with two pneumatic tires. A passive brake keeps the machine solidly positioned on the job.
Standard safety features include a thermal relief valve to protect the pump from heat damage, along with a back flow check valve and inlet filter. Complete with tool box. An optional spray wand is available.

Click here to view product specifications.