Extending the Life of Your Drain Cleaning Cables
Featured Product from General Pipe Cleaners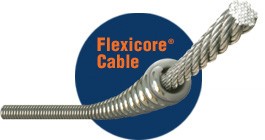 At the WWETT show in Indianapolis, General Pipe Cleaners talked to customers about their experience using General Pipe's drain cleaning machines.
Back in 2005, Michael Jackson bought a couple of Speedrooter drain cleaning machines from General. One has 100 feet of 5/8 inch Flexicore® cable, the other has 100 feet of 3/4 inch. Despite being used almost every day and in every way for 15 years, Michael still has the original Flexicore cables in his Speedrooters! This fact speaks volumes about the strength and durability of our Flexicore drain cleaning cable, as well as Michael's disciplined approach to machine maintenance.
Ready to see how General Pipe Cleaner's Flexicore drain cleaning cables can help your business to thrive with efficiency? Visit our Where to Buy page to find a retailer dealer nearest to you!
Watch the video below from this year's WWETT Show to learn more about why Mike chooses General!