Gen-Eye Micro-Scope2® Compact Inspection Tool
Featured Product from General Pipe Cleaners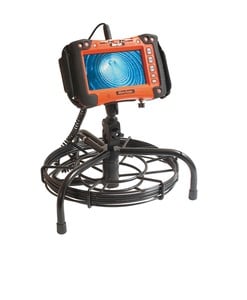 General Pipe Cleaners' Gen-Eye Micro-Scope2® compact handheld inspection tool features a new Command Module that includes a USB port to record on a flash drive. You can watch the action on a big 7" LCD color monitor for crisp, clear pictures and record videos or photos on the flash drive with the one-touch record button.
The Micro-Scope is packed with other great features like 4X digital zoom, picture rotate and mirror image buttons, voice-over recording, date and time stamp, and LED Dimmer Control. The internal battery lets you record remotely for up to 4 hours. On-screen status indicators include flash drive capacity indicator and battery strength indicator.
The lightweight, compact reel carries 100 ft. of micro push-rod with a color camera, giving you the ability to inspect 1-1/2" to 3" drain lines and many toilet traps. The adjustable mount on the reel let's you set the monitor to the best viewing angle, wherever you're working.
The Command Module also includes a 3 ft. Probe-Rod with color camera for inspecting hard to reach places. Three adapters are included to improve your viewing angle or to retrieve objects.
Click here for features and specifications.