Gen-Eye USB® Inspection System with Flash Drive
Featured Product from General Pipe Cleaners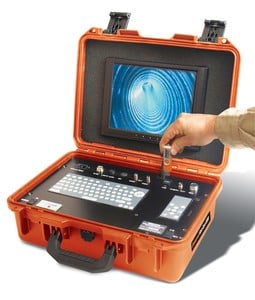 New Gen-Eye® USB video inspection system from General Pipe Cleaners lets you record videos and photos on popular USB flash drives. General's top of the line Gen-Eye USB system includes all the features you need in a compact, lightweight package.
The Command Module features a USB port to store video or still images (up to 128 GB capacity), a 10.5" LCD color monitor for crisp, clear pictures, and a full-size, waterproof keyboard for on-screen titling, footage counter, date and time stamp, and voice-over microphone. All are safely contained in a heavy-duty Pelican case that weighs just 12 lbs.
General offers three models of the USB series: The Gen-Eye USB, the USB-W with Wi-Fi inside to record inspections on your smartphone or tablet, and the USB-P premium inspection sytem that includes all the features of the USB, plus a sunlight readable screen and a 4 hour battery for remote operaton, as well as the Wi-Fi transmitter.
Full size reel units include 200 ft. or 300 ft. of Kevlar®-reinforced Gel-Rod™ for troubleshooting 3" to 10" lines – and a Self-leveling color camera. Mini-Reel models include either 100 ft. or 200 ft. Kevlar®-reinforced Mini Gel-Rod™ for 2" and 3" lines – and a Mini Self-leveling color camera. Both include trap skids and 512 hz transmitter for precise camera tracking.
General's Gen-Eye Hot Spot® digital pipe locator makes locating easier than ever. Its total field antenna array and on-screen icons lead you right to your target, without the long learning curve. No need to interpret numbers and bar graphs. Arrows point you in the right direction and the Camera icon confirms you're over the target.
For more information, contact the Drain Brains® at General Pipe Cleaners at 800-245-6200 or 412-771-6300, or visit www.drainbrain.com/geneye.