Gen-Eye X-POD Plus® Sewer Camera System
Featured Product from General Pipe Cleaners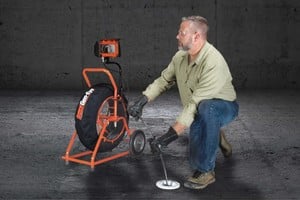 The new Gen-Eye X-POD Plus® sewer camera system now includes the Gen-Pack™ battery adapter, Wi-Fi transmitter, and an on-screen distance counter as standard equipment to boost productivity and profitability!
Depending on battery type and settings, the built-in Gen-Pack battery adapter lets you operate the camera system for up to 12 hours in remote locations with limited access to power. Fuse-protected to safeguard your equipment investment, the Gen-Pack battery adapter is also available separately. Compatible with Milwaukee M18 battery or equivalent. Battery and charger are not included.
X-POD Plus makes recording and sharing inspections easier. You can record videos and photos on a flash drive using the USB port or send the recording to your customers via your smartphone or tablet with the built-in Wi-Fi transmitter.