How to Clear Small Lines Without a Snake
Featured Product from General Pipe Cleaners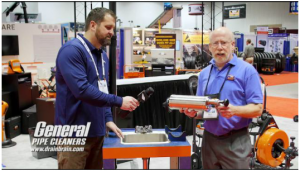 Plumber Magazine asked General Pipe Cleaners' Marty Silverman how to use General's Kinetic Water Ram™ at the the 2016 WWETT Show.
According to Plumber Magazine, "The Water Ram from General Pipe Cleaners does something no other drain cleaning machine does: clear small lines without using a snake. It uses a shock wave to clear the line, without harming the pipes. This little tool enables you to clear lines that would be difficult to run a snake through – like slow draining tubs or long narrow lines in trailer homes."
To learn more about the Kinetic Water Ram, check out the full article and video here!