How to Combat Commercial Grease Clogs — A Self-Service Solution
Featured Product from General Pipe Cleaners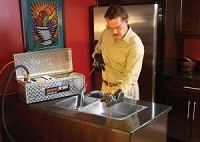 Grease clogs involving fats, oils and grease (FOG) can be a nightmare of a plumbing issue. Grease clogs build up slowly, limiting water flow down a drain before eventually leading to blockages and backflows. In addition to the inconvenience of a blocked drain, they are associated with foul odors and black mold.
A drain-cleaning cable, or snake, is an efficient tool that can push through and break up solid objects, clearing common clogs. However, this is only a short-term solution when dealing with a grease clog because grease clogs are considered self-healing stoppages and their tendency is to close up as soon as a cable is removed. A snake is simply the wrong tool for the job!
A Self-Service Solution to Grease Clogs For Maintenance
The nature of the do-it-yourself problem solver includes choosing the right materials and tools to complete a project. While it may appear that buying your own water jet to clear clogs might be a lot of work, there's actually a difference between DIY and self-service.
Buying your own waterjet is a self-service solution, distinguishable by its effectiveness and accelerated speed of service. DIY is sometimes labor intensive, whereas solving your own grease clogs on your own time, and at a minimal expense, is as convenient as a self-service bank or gas station.
General Pipe Cleaners provides a self-service solution for maintenance professionals looking to handle recurring grease clogs. At just 23 pounds, the JM-1000 Mini-Jet is the size of a toolbox. It provides 1,500 PSI of cleaning pressure at only 13 amperes to clear grease (as well as sand and ice) in 1.5- to 3-inch lines.