JM-3055 Water Jet Clears Tough Clogs In Long Line
Featured Product from General Pipe Cleaners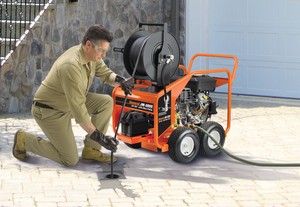 A two-building Aberdeen, South Dakota, office complex suffered constant sewer line back-ups.
Local topography forced the facility's new 300-foot sewer line into an "essentially flat" connection to city services. Authorities would not pay for a pump, and stoppages simply worsened with time.
Enter Aberdeen Plumbing & Heating Services, Inc. with their brawny JM-3055 water jet from General Pipe Cleaners.
Aberdeen forged a reputation for excellence in plumbing and drain cleaning services to commercial and residential customers within 75 miles of company offices.
"We've done service, remodeling and new construction plumbing work for that customer's properties over 40 years," Aberdeen co-owner, Bob Rux, reports. "And you do things right to keep a relationship that long."