Latest Catalog from General Pipe Cleaners
Featured Product from General Pipe Cleaners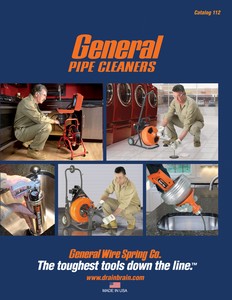 The latest catalog is available from General Pipe Cleaners, manufacturer of a full line of drain cleaning machines, including high pressure water jets, video pipe inspection and location systems, water leak locators, pipe freeze kits, pipe thawing machines, and more.
The catalog illustrates professional and DIY drain cleaning equipment and accessories to clear lines from 1-1/4" to 10" in diameter, including General's new Model DRZ compact drain cleaning machine, the inexpensive JM-1000 Mini-Jet, and the Wi-Fi enabled Gen-Eye Prism pipe inspection system. The catalog can be viewed on-line as a flipbook at http://www.drainbrain.com/catalog
General Pipe Cleaners, a division of General Wire Spring Co., is a leading manufacturer of high quality American-made drain cleaning equipment. In business since 1930, the third generation family-owned company is celebrating 88 years of service to drain cleaning professionals and plumbing contractors, as well as facilities managers, the rental industry and the hardware/DIY market. The Toughest Tools Down The Line.
General Pipe Cleaners, a division of General Wire Spring Co., 1101 Thompson Avenue, McKees Rocks, PA 15136, USA. Ph: 800-245-6200 or 412-771-6300.