Locate Buried Utilities w/Hot-Spot Transmitter
Featured Product from General Pipe Cleaners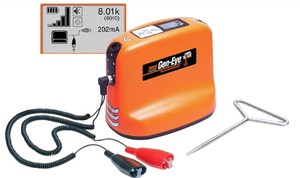 In tandem, the Hot-Spot locator and this matching Gen-Eye Hot-Spot Transmitter finds buried utilities quickly and easily. Like the locator, this transmitter has been designed to take the confusion out of getting the job done.
Locating buried utilities used to be tough. Not anymore! With the powerful 5-watt Hot Spot transmitter, location is easier than ever. More power means more signal to locate. Choose one of 4 frequencies – 1KHz, 8KHz, 33KHz or 65KHz. You can select the frequency and power that best suits your application.
The Hot Spot transmitter features simple menu-based user interface with easy to access menus. The easy to read LCD graphic display with auto backlight lets you keep track of everything from battery level to connectivity and line resistance to make your locating job easier. Superior battery life keeps the Hot Spot operating for as much as 100 hours. Use the Hot Spot transmitter in tandem with the Hot Spot pipe locator to easily locate buried pipes and utilities.
Click here to view product specifications.
To see the complete line of Gen-Eye camera systems, contact General at 800-245-6200, or visit www.drainbrain.com/geneye.