New to Drain Cleaning – What should I get?
Featured Product from General Pipe Cleaners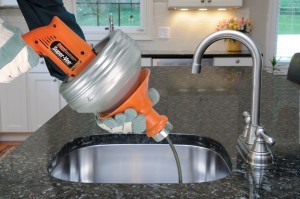 What type of drain cleaning tools would meet the inevitable clogged drain emergency? Ask the Drain Brains® at General Pipe Cleaners.
Q. I'm planning to expand my business from remodeling to doing a little drain cleaning work to increase my income through the slow months. What type of drain cleaning tools would you recommend to meet the inevitable clogged drain emergency?
A. You've made a good decision. A drain cleaning tool can pay for itself in just four uses. The first things to consider are the types of drains that are most likely to clog:
1. Clogged toilet. I'm sure you've got a plunger, but so does your customer. If they've called you, the plunger didn't work. The best tool for clearing a clogged toilet is a closet auger. Get a professional grade telescoping auger with Flexicore cable, not a cheap one from a hardware store. It won't kink on you the first time you use it. And the extra length will clear the stoppage just beyond the bowl, saving you the headache of removing the bowl to get at the stoppage.
2 .Clogged sink or laundry drain. A hand-held power drain cleaner like the Super-Vee will make quick work of this common clog. A ¼-inch or 5/16-inch snake can easily negotiate the 1-1/4-2-inch pipes under a kitchen or bathroom sink. It is easier on the cables if you remove the P-trap under the sink rather than wrestle your way past it with a snake. Consider an automatic feed version like the Power-Vee. It's faster, easier and safer to use.
3. Slow-draining tub or shower. Snakes have a hard time getting through drum traps under showers and tubs. The Water Ram uses a burst of compressed air that drives a shock wave through the water to break up the stoppage. You get instant impact, so there's no pressure buildup.
4. Tree Roots. You can sub-out the root work for now. As your business grows, you can add a root cutting machine like the Speedrooter later.
Questions? Call the Drain Brains® at General at 800-245-6200, or email info@drainbrain.com, or visit askthedrainbrains.com.