Over 90 Yrs. of Drain Cleaning Industry Leadership
Featured Product from General Pipe Cleaners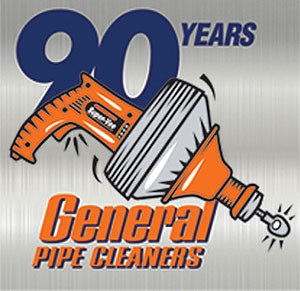 Four generations of General Pipe Cleaners personnel celebrated the company's 90th anniversary in 2020!
Founded in 1930 by Abe Silverman, General spearheaded key developments in the drain cleaning industry – including innovative, pioneering Flexicore® cable, power-driven and hand-held machines, and integrated visual and audio inspection technologies.
Today, General serves multiple generations of plumbing, drain cleaning, maintenance, and rental experts with "the toughest drain cleaning tools down the line".
That's because the legendary longevity and rugged reliability of General equipment help customers boost bottom lines through enhanced productivity.
Classic Designs Meet Marketplace Needs
Take the company's pioneering Flexicore® cable – a radical design first introduced in the 1940's.
By patenting a process of wrapping spring around a braided wire core, Abe Silverman's invention leaped far ahead of competitive products. And it's remained the standard for drain cleaning snakes ever since.
General's hand-held Super-Vee® boasts a similar reputation.
Derived from the revolutionary Handylectric® of the 1940's, tough, dependable Super-Vee remains the weapon of choice for unclogging small diameter lines in sinks, showers, toilets, and laundries drains.
In fact, the only way one customer's Super-Vee – originally purchased over 30 years earlier – stopped working was when it was stolen!
Enhancements Maximize Performance
In the mid-1960's, automatic cable feeds boosted the appeal of new General equipment.
The popular Power-Vee® with automatic feed cemented the company's lead in hand-held drain cleaners. Legendary Mini-Rooter® machines cleared clogs from rooftop to basement – including kitchen, bath, and laundry lines. And the brawny Speedrooter® family eliminated tough stoppages in large lines up to 200 feet long.
But professionals know that some stoppages are tough for cable machines to clear.
Tackling Tiers Of Troubles
So for three decades, General's popular, powerful Jet-Set® water jets have sliced through grease, sludge, sand, sediment, ice, and similar sticky stoppages.
They unleash a stream of high-pressure that blast blockages – and flush them away. Nozzle thrust drives the hose down lines – and gives you wall-to-wall pipe cleaning action.
General's compact, economical electric water jets are great for clearing smaller and inside 1-1/2" to 3" lines – like sinks and laundry drains. Carry the lightweight, powerful JM-1000 Mini-Jet™ right to problems – or wheel the trim JM-1450 right to troubles!
How about tougher clogs in larger, outside lines?
General's muscular gas-powered machines punch through stubborn stoppages in longer and outside 4" to 8" lines. All sport 3000 psi pumps, reliable engines, puncture-proof tires, and robust frames. On-demand Vibra-pulse® technology helps propel hoses down long runs and around tight bends.
Precisely Pinpointing Problems
Quickly and correctly spotting troubles also helps experts boost both productivity and profitability. So from the late-1990s, General popularized integrated video and audio inspection technologies to find and diagnose difficulties.
Available in a variety of models and sizes, Gen-Eye® sewer camera systems – augmented by the advanced Gen-Ear LE® acoustical water leak detection device – quickly and accurately pinpoint problems.
Other inventive, productivity-boosting General products – like the ClogChopper® cutter and unique Kinetic Water Ram™ drain cleaner – claim fame as equal heirs to Abe Silverman's pioneering legacy.
Today, General boasts a full line of advanced drain cleaning tools and accessories – including reliable cable drain cleaning machines, gas and electric powered water jets, video inspection and location systems, acoustical water leak location equipment, pipe freezers, pipe thawing machines, and more.
Abe's legacy of product reliability and innovative solutions continues today. Today, his great-grandchildren have joined the company. And over 40% of General's work force remains multi-generational – with children often working shoulder-to-shoulder with their parents.
General remains a leader in innovative drain cleaning and inspection technologies. And the people of General continue working hard to serve even more generations to come with the "Toughest Tools Down The Line!"