Power-Vee with Automatic Feed
Featured Product from General Pipe Cleaners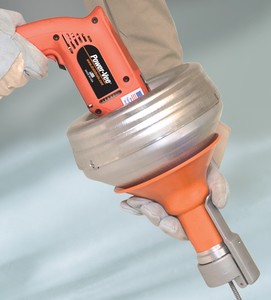 We've miniaturized our big machine power cable feed to create the Power-Vee. It gives you feeding speed and convenience you haven't seen before in a hand-held power drain cleaner. In tight or awkward places, the Power-Vee is like having a third hand.
To feed the cable just start the Power-Vee and squeeze the feed lever; to retract it, reverse the motor and squeeze the lever. The feed handles 1/4", 5/16" and 3/8" cables. No adjustment, disassembly, or additional parts required.
Our Dyna-Thrust™ bearing system helps carry the weight of the drum, significantly reducing wear on the motor shaft bearing and extending the life of the tool. Also adding to the Power-Vee's durability is the heavy-gauge stamped aluminum drum. Of course the cables are Flexicore® – with an integral wire rope center. Nobody makes cables like General.
Feed 3/8" cable at 16 feet per minute.
The feed handles 1/4", 5/16" and 3/8" cables - no adjustment, disassembly or additional parts required.
Uses left hand wound Flexicore© cables for maximum strength.
With Quick-Change Cable Cartridges.
To switch to a different diameter cable (or even connect two 3/8" cables together), you just loosen three screws, pull the front of the drum off the cable, and load another cartridge. Changing takes less than a minute and turns what could be a messy job into a clean one. The tough plastic cartridges are so inexpensive, you'll probably want to store all of your cables in them.