Prevent Splash-Back w/VeraPlunge™ Toilet Plunger
Featured Product from General Pipe Cleaners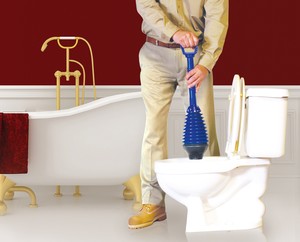 Tired of the messy, germ-laden splash-back with old-fashioned toilet plungers? Take the VersaPlunge™ from General Pipe Cleaners!
With its patented, extremely pliable cone, it easily conforms to nearly any shaped toilet bowl opening, creating a tight seal in virtually any toilet design. It's better than any other plunger on the market!
Features
Patented VersaFlange easily forms a tight seal in virtually any drain opening to prevent splash back.
Roll up the end of the VersaFlange to make a flat bottom to clear sinks and other drain openings.
Super compressible accordion-style bellows makes it easier to apply extra force to clear the stoppage.
Built-in relief valve in the handle lets you easily purge the air from the device before thrusting and prevent splashback.
Easy grip handle gives you more control and is a lot easier to use than the broom handle found on traditional plungers.