Snake-Oil Classic™ Preserves/Protects Sewer Cables
Featured Product from General Pipe Cleaners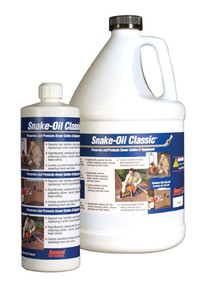 Snake-Oil™ is back! Long known as a dependable way to preserve and protect your sewer cables against rust, General Pipe Cleaners' Snake-Oil has been reintroduced as Snake-Oil Classic™. It's better than common lubricants because its special rust inhibitor cuts through moisture and replaces it with a rust resistant coating. This significantly extends the life of the sewer cables and the machine, including the drum, bearings, and power cable feed. In addition, Snake-Oil includes a lemon-scented deodorant that gives the sewer cables a fresh, clean smell.
Snake-Oil Classic is easy to use. Just pour a quantity of Snake-Oil Classic into the drum of the machine and rotate the container to allow the oil to contact as much of the cable as possible. Then drain off the oil and allow the cable to air dry. Snake-Oil Classic is available in either quarts or gallons (New part # SOC-Q or SOC-G.)
Snake-Oil Classic joins Snake-Oil Plus™, General's new non-toxic, biodegradable addition to its Snake-Oil family. Snake-Oil Plus creates a virtually non-stick surface that keeps mud and debris from adhering to cables and equipment – extending the life of both.
For additional information, contact the Drain Brains® at General Pipe Cleaners at 800-245-6200 or 412-771-6300, or visit www.drainbrain.com.
General Pipe Cleaners, a division of General Wire Spring Co., is a leading manufacturer of high quality, American-made drain cleaning equipment. In business since 1930, the third-generation, family-owned company is celebrating 90 years of service to drain cleaning professionals and plumbing contractors, as well as to facilities managers, the rental industry and the hardware/DIY market. The Toughest Tools Down The Line.