Subtractive vs Formative Manufacturing PU Foam
Service Detail from General Plastics Manufacturing Co.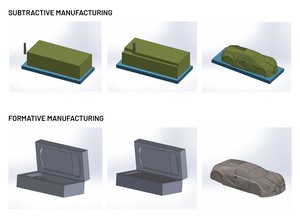 At General Plastics, our rigid and flexible polyurethane foams are commonly used to make production parts in nearly every industry – including aerospace, automotive, recreation, consumer, and medical markets. However, a common misconception is that using foam automatically means machining. Many new customers ask us, "Can I get a CNC quote?" without realizing that there are other processing options to consider, such as molding.
A misconception is that molding is more expensive than machining. After decades of working with clients on a wide variety of complex applications, we have recommended cast molding for our foams, especially for high volume runs. Our goal is to present more processing options for you to consider. In this whitepaper, we will explain the different nuances between and results from machining versus molding.