Face Shields for COVID-19 Healthcare Workers
Featured Product from General Plastics Manufacturing Co.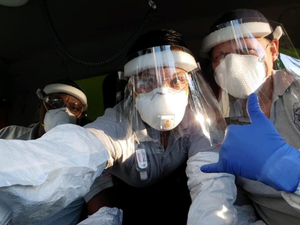 As the entire world struggles to live safely during the Covid-19 pandemic, a number of manufacturing companies have stepped forward to help produce the Personal Protective Equipment (PPE) needed to help healthcare workers and entire communities stay safe.

D2 Machining Solutions is a customized manufacturing facility in Fort Lauderdale, FL that is experienced in meeting the stringent demands of the marine industry. Quickly after Covid-19 became a reality, Jason Lynch and Kristian Schweser, founders of D2 Machining Solutions, decided to utilize the company's experience and arsenal of machining technology to manufacture face shields for the healthcare industry.
"Healthcare workers need face shields to keep themselves safe, while tirelessly saving the lives of others," said Lynch. "D2 is skilled in customizing machined products in a timely manner for customers, so I knew that we would be a great resource to local healthcare facilities."
Once D2 announced their plan, Memorial Healthcare System in Hollywood, FL responded immediately requesting face shields for their healthcare workers. That is when D2 contacted General Plastics for help in supplying the adhesive foam strips for the face shields.
"I knew quickly after connecting with General Plastics that they were the right manufacturer for the job," said Lynch. "They made helpful recommendations on the design of the foam and were able to produce high-quality foam strips within our tight deadline."

A leading innovator in the plastics industry, General Plastics develops and manufactures its renowned rigid and flexible polyurethane foam product series, LAST-A-FOAM®. To create the foam strips with adhesive backing, the company used its EF-4000 series open cell, flexible foam to guarantee that medical workers stay comfortable while wearing the D2 face shields.

"We're honored to produce materials for a PPE that plays such an important role in helping healthcare workers and first responders stay safe during this pandemic," said Mitchell Johnson, Ph.D., President/CEO of General Plastics. "Our manufacturing experience and large facility allowed General Plastics to expedite D2's face shield project. We plan to continue to support face shield manufacturers with foam strips for as long as it takes."

"The feedback has been very positive," said Lynch. "Memorial Healthcare System shared that the face shields are very comfortable for their workers and that the foam is quite breathable and doesn't irritate the skin when you sweat or wear for long periods of time."

D2 was able to provide Memorial Healthcare System with 50,000 face shields. Since then the company has also supplied face shields to local firefighters and first responders.