INTERIOR PADDED PARTS FOAM SERIES
Service Detail from General Plastics Manufacturing Co.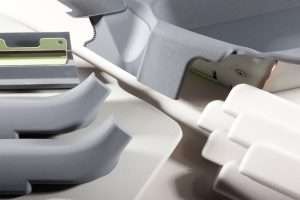 LAST-A-FOAM® WSF-1121
These flame-retardant, durable, self-skinning foams (also referred to as integral-skin foams) are used extensively in aircraft flight decks and cabin applications. The harder, more durable of our flexible polyurethane foams, this tough integral-skin polyurethane foam system can be pigmented and in-mold painted for a lasting finish. WSF-1121 products are used by airframe manufacturers for molded and fabricated flight-deck padding and aircraft interior parts. This self-extinguishing, flexible urethane foam can be custom-molded to your exacting specification.
Applications
Flight-deck Padding
Flight-deck Parts
Passenger Cabin Walls and Ceilings
Passenger Compartment Overhead Stow Bins
Service-Class Divider Partitions
Food-Service Galleys
Lavatories
RTM/VARTM Core
Submunition Weapon Packaging
Prosthetic Limbs
Download our Production Services Brochure.
Molded Parts
POLYURETHANE MOLDING
General Plastics fabricates and machines custom-molded parts to customer specifications using high-density flexible and semi-flexible polyurethane LAST-A-FOAM® materials. Look to our unique foam formulations and proven built-to-print capabilities to satisfy your most demanding production requirements. Our high-capacity production facilities enable us to scale production to project needs - from a small, short-term run of specialty parts to an extensive, ongoing OEM parts program.
General Plastics Manufacturing Company is ideally qualified and equipped to manage all aspects of a molded-foam part program. As your production partner, our seasoned estimators, CAD/CAM designers, procurement specialists, chemist and production staff will custom-develop your build-to-print program. Our team can support you with part and tool design, mold tooling manufacture, and production of parts through all phases to completion. When necessary, we will also custom-formulate appropriate foam systems to make just the part you need, with all the physical properties and other attributes you require.
Based on your specifications, we'll recommend the optimal solution for density-to-part-weight control, void control, part consistency, surface quality and physical properties. Low scrap rates, competitive tooling costs and our collaborative approach make General Plastics a leader in custom molding services.
In addition, count on us for any accessory items needed to complete your assembly: metal brackets, clips, handles, other hardware, mounting fasteners, etc. We manufacture composite-laminate backing structures to provide support for foam parts if needed. To further streamline processes, we can also manage procurement and incorporate these items into your project if you desire.
Our molded part capabilities and facilities include:
Part design
Tool design
Model-to-print and pattern-to print services
Mold tooling manufacture
Foam formulation with full QA documentation
Dedicated assembly room for engineered parts
Segregated, controlled-access ITAR assembly room for military parts
Custom molding, fabrication and assembly services include:
Pattern making
Mold design services
Part design
Prototype design
Tooling
CNC machining
Painting
Adhesive bonding
Prepreg, potting and resin-infusion processes
AIRCRAFT PROGRAMS
Aircraft manufacturers have trusted General Plastics' top-flight parts for more than 40 years. We supply build-to-print flexible polyurethane foam molded parts to original equipment manufacturers and Tier 1 / Tier 2 companies.
Durable custom-molded parts are manufactured from our flame-retardant, self-extinguishing, self-skinning flexible urethane foams. Our aircraft molded-parts program spans flight deck and aircraft interior applications. Typical molded parts include:
Flight deck pads
Headliners
Assist handles
HUD covers
CD post pads
Glare-shield pads
Kick strips
Closeout seals
Bin-to-bin
Bin-to-monument
Galley and lavatories
Header seals
Mouse holes
Trash traps
Light blocks
RIGID & FLEXIBLE POLYURETHANE FOAM AND BUILD-TO-PRINT COMPOSITE PARTS
For over 75 years, we have focused on meeting the exacting requirements of engineers and design teams in diverse industries. Our premier LAST-A-FOAM® closed- and open-cell polyurethane foam products provide a high strength-to-weight ratio and extraordinary versatility, with absolute consistency from order to order, guaranteed.
Whether you need high-temperature tooling boards, molded parts or submersible foams, expect identical quality, uniformity, stability and weight for the density you specify – every time.
From the oceans' depths to deep space, we shape great ideas into reality.