Low CTE Tooling Board
Service Detail from General Plastics Manufacturing Co.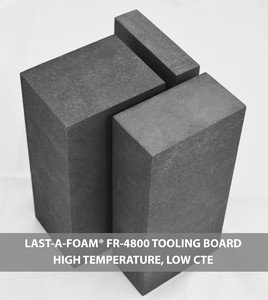 General Plastics welcomes its newest tooling board: LAST-A-FOAM® FR-4800. This foam is a high-temperature tooling board with a low CTE, similar to aluminum, which can be used in high-temperature resin systems, such as vinyl esters, epoxies and BMIs, in high pressure autoclaves and fiber-reinforced composites.
Thermally-Stable Tooling Foam
FR-4800 tooling boards withstand peak temperatures up to 480°F (249°C) and continuous use up to 400°F (204°C). It will not warp or twist and remains dimensionally predictable, even at elevated temperatures. The LAST-A-FOAM® FR-4800 will not change shape throughout the course of thermal cycling, preventing out-of-tolerance parts. FR-4800 has a consistent cool down rate of 1°F to 2°F per minute. Request A Quote.
Versatile Material for Challenging Performance Requirements
LAST-A-FOAM® FR-4800 performs well in the production of high-tolerance parts. It has excellent machining capabilities and a CTE that is both reliable and repeatable. This allows designs to produce accurate tooling surfaces. It can be used in the production of complex shapes and parts in the aerospace, defense, and automotive industries. Request A Sample.
Alternative to Other Tooling Methods
FR-4800 is more cost-effective than other tooling methods, with its low CTE that is similar to aluminum and a density that is only a third of it, the FR-4800 is an excellent alternative to metallic tooling. This tooling board has a smooth surface finish, is non-abrasive and can be machined with carbide tooling. Compared with metallic tooling, FR-4800 has a shorter lead time for machining. Learn More.
Features:
Applications:
*insert CTE chart
Other LAST-A-FOAM® Tooling Board Materials
RIGID & FLEXIBLE POLYURETHANE FOAM AND BUILD-TO-PRINT COMPOSITE PARTS
For over 75 years, we have focused on meeting the exacting requirements of engineers and design teams in diverse industries. Our premier LAST-A-FOAM® closed- and open-cell polyurethane foam products provide a high strength-to-weight ratio and extraordinary versatility, with absolute consistency from order to order, guaranteed.
Whether you need high-temperature tooling boards, molded parts or submersible foams, expect identical quality, uniformity, stability and weight for the density you specify - every time.
From the oceans' depths to deep space, we shape great ideas into reality
General Plastics is certified to ISO 9001:20015/AS9100D and purchases from ISO 9001 partners.
Product Finder
Looking for a specific application? Our product finder tool will help you narrow down your search. Simply select your industry. It will then prompt you to choose the application within the industry. After you have made your selection, you will be given a list of products best suited for that application.
Production Services
In addition to producing specialized LAST-A-FOAM® rigid and flexible polyurethane foam sheets, General Plastics Manufacturing Company also molds, fabricates and assembles parts and assemblies. We supply machined and fabricated items for a diverse range of demanding commercial, industrial, military and composite-manufacturing customers. We also have a variety of special processes available to customers. These services include custom foam-formulation for specific applications, and special testing and material-characterization services.
Markets: