Your Partner for Research & Developmental Testing
Service Detail from General Plastics Manufacturing Co.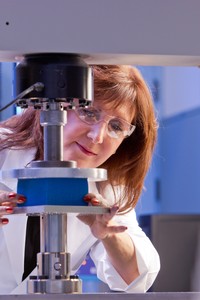 Before you begin costly certification testing, turn to General Plastics for developmental and engineering testing. Our testing facility can test a single product or a small batch through any stage in the production process.
General Plastics' Developmental Testing:
Developmental and engineering tests of products or materials
Repeated trials of evolving prototypes
Pre-testing of refind prototypes
Full certification testing
Developmental testing service include:
Accelereated Aging
Hydrostatic Pressure
Energy Absorption
Fire Safety
Custom Foam Formulations
General Plastics also offers a wide range of tests in our on-site testing laboratories, including an FAA-approved burn test facility. All tests are conducted using calibrated equipment that is traceable to NIST and follow ASTM testing standards.
Learn more about our other testing services.
Testing Frequently Asked Questions
RIGID & FLEXIBLE POLYURETHANE FOAM AND BUILD-TO-PRINT COMPOSITE PARTS
For over 75 years, we have focused on meeting the exacting requirements of engineers and design teams in diverse industries. Our premier LAST-A-FOAM® closed- and open-cell polyurethane foam products provide a high strength-to-weight ratio and extraordinary versatility, with absolute consistency from order to order, guaranteed.
Whether you need high-temperature tooling boards, molded parts or submersible foams, expect identical quality, uniformity, stability and weight for the density you specify – every time.
From the oceans' depths to deep space, we shape great ideas into reality.