Abrasive Cord & Tape for Inaccessible Areas
Product Announcement from Gesswein Co., Inc.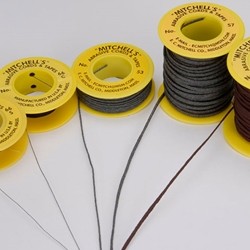 Impregnated with aluminum oxide or silicon carbide for cutting or Crocus for ultra-fine polishing. (Crocus is an iron oxide abrasive which leaves a very fine finish on metals without scratching.) For use on hard and soft metals, ceramic, plastic and wood.

Great for cutting and polishing intricate areas that are inaccessible to other tools.

Can be used by hand (like floss), in small sawframes, hand drills and power tools. Simply loop, insert into the chuck and tighten securely. Won't tear or fray and can be cut to any length. Tapes have abrasive on both sides.

Approximately 50' supplied in a handy dispenser.
---