Hybrid Polishing Stones - New Shape!
Product Announcement from Gesswein Co., Inc.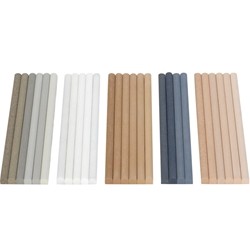 Our new Hybrid shape combines all the advantages of round and flat stones without the higher costs normally associated with round stones. Use the round side on curved surfaces, the flat side on even surfaces and in 90° corners and slots.

Measure 1/4" x 1/4" x 6" long and are available in our most popular styles: Diemaker, EDM, GP, Moldmaker, and Oil-Treated.

Also available in a 20-piece set.
---