MedaLight Light Box for Pro Photography of Parts
Product Announcement from Gesswein Co., Inc.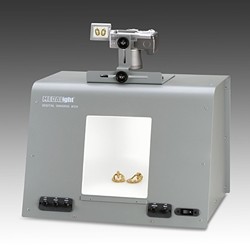 A full-size light box for shooting a wide range of items. 11" x 16" imaging platform; five individually controllable, dimmable 5000K fluorescent lights in front, rear, sides and bottom; and infinity curve from bottom platform to rear panel for seamless background transition.

Includes removable front door, universal camera bracket, power adapter, six colored background papers and two black side masks.

This light box features one main power switch and five individual light switches with dimmers that control the diffused 5000K fluorescent lighting from all sides (lights are located underneath the platform, on each side, in the back and in the front on each side of the opening).

Designed for use with today's consumer-oriented digital cameras. Just mount your camera on the included top-mounted bracket, and you're ready to start taking pictures! Or take advantage of the removable front door, which allows easy picture taking from the front of the box (optional camera tripod recommended). Creates a consistent, shadow-free and virtually reflection-free environment that's perfect for shooting a wide variety of small parts.
---