Supra Diamond Compounds for Polishing Aluminum
Product Announcement from Gesswein Co., Inc.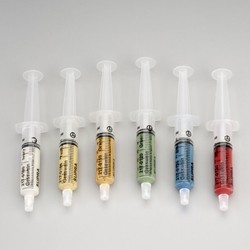 Oil-soluble compounds with extra-heavy concentration of 100% virgin synthetic diamond for sharp, even cutting action on aluminum. Graded to closer tolerances than those dictated by nationally recognized standards. Provide much faster stock removal than traditional diamond compounds. Formulated not to break down under heat or pressure.

Sold in 5-gram Precision Applikator™ which affords finer control than ordinary syringes.

The coarser grades of diamond compound are usually applied with brushes, either cup brushes or end brushes. Apply finer grades of diamond compound using felt bobs or other felt products of a size and shape suited to the configuration of the work surface. Be sure to add Gesswein Lubricant/Thinner to the diamond compound to create a slurry on the worksurface.
Available in:
1-S Ivory: Super Finish, 0-2 microns, 14000 mesh
3-S Yellow: Very High Finish, 2-4 microns, 8000 mesh
6-S Orange: Mirror Finish, 4-8 microns, 3000 mesh
9-S Green: High Finish, 6-12 microns, 1800 mesh
15-S Blue: Fine Finish, 10-20 microns, 1200 mesh
30-S Red: Fast Lapping, 20-40 microns, 600 mesh
---