UM-1200 Ultrasonic Polisher for mold polishing
Product Announcement from Gesswein Co., Inc.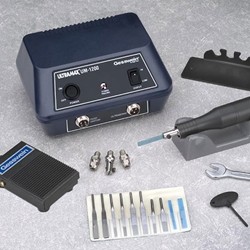 ULTRAMAX UM-1200 boasts features normally found only in much more expensive units. Self-regulating to ensure all finishing tools work at optimal efficiency. A power suspending system drops output power to 6W when the handpiece is not in use, keeping the handpiece cool and extending transducer life. And output power varies with hand pressure on the workpiece, providing ultra-precise polishing results and smooth surface finishes.

UM-1200 offers total output control for different polishing tasks. Produces 25,000 cycles per second of longitudinal vibration in a small, comfortable handpiece with an invisible minute stroke of 10 to 35 microns from low to high output levels.

If you don't have an ultrasonic polisher in your toolroom or need another, now's the time! Reduce your polishing costs dramatically by adding the affordable UM-1200 to your workbench.

Includes power pack, handpiece, handpiece cradle rest, on/off foot switch, two sintered and six plated diamond tools, two ceramic stones, tool holders and wrenches.
---