G200 Dual Axis Low Noise MEMS Gyro
Product Announcement from Gladiator Technologies, Inc.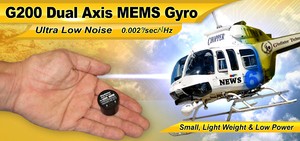 The all new G200 Dual Axis MEMS Gyro represents Gladiator's breakthrough gyro technology enabling an ultra low noise two axis MEMS gyro and bandwidth of 200Hz that has performance commensurate with much more expensive small Dynamically Tuned Gyros. It also features industry leading bias in-run and bias over temperature. Designed for commercial stabilization and aircraft applications, the gyro has a bipolar signal outputting balanced 0V ±5V. The signature features of the G200 are ultra low noise gyros of 0.002°/sec/√Hz, bandwidth of 200Hz, short term bias of 0.0014°/sec as well as impressive bias over temperature, low power, light weight, as well as excellent g-sensitivity and misalignment.
Key Features:
• G200 Dual Axis MEMS Gyro
• Ultra Low Noise <0.002°/sec/Ö Hz (100 °/s)
• Short Term Bias 5°/hour 1σ
• Bias Over Temperature ≤0.1°/sec 1σ
• G-Sensitivity ≤0.005°/sec/g 2σ
• Axis Alignment <8mrad 1σ
• Ultra Low Power < 10 mA Typical
• Bipolar Output Signal
• Light Weight 18 grams
• Low Voltage +5V (single sided power)
• Bandwidth 200Hz
• Environmentally Sealed
• Voltage Output
• Internal Temperature Sensor
• Self Test
• Shock Resistant 500g
• Vibration 6 gRMS
• High MTBF
• Export ECCN7A994
The unit is highly durable and can withstand environmental vibration and shock typically associated with commercial stabilization and aerospace requirements. The MEMS G200 gyro is offered at 100°/s or 300°/s rate range. The gyro is designed for platform and antenna stabilization and pointing, commercial aircraft applications, automotive testing, general aviation and laboratory use. The G200 is ideal where very low noise, excellent bias over temperature performance, low power consumption, low g-sensitivity, light weight and rugged durability are desired for commercial environments and applications. Thermal model available - consult factory.
Please click on the links to the right or contact Gladiator Technologies today!
---