LandMark™ 20 IMU - Low Noise MEMS IMU
Product Announcement from Gladiator Technologies, Inc.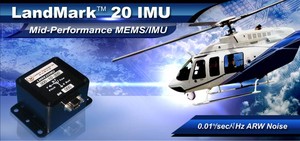 The latest model of our LandMark™ 20 IMU is our mid-performance version of our small LandMark™ IMU family and is 10/20/40 form, fit and function interchangeable. The unit features low noise gyros and accelerometers with exceptional bias in-run and bias over temperature performance in a small light weight ruggedized environmentally sealed enclosure with MILSPEC connector. The unit also features low power consumption, small size, light weight and long life MTBF. The signature feature of the IMU is the low noise gyros and accels, which enable precision measurement. The IMU's performance is optimized with fully temperature compensated bias and scale factor and compensated misalignment and g-sensitivity. The unit is highly durable and employs an FEA designed internal vibration isolator that can withstand environmental vibration and shock typically associated with commercial aircraft requirements. LandMark™ IMU's also include built-in firmware to accept external velocity as well as an external sync input 1 kHz (or 1pps indication).
Key Features:
• Low Noise Small MEMS IMU
• Low Gyro Noise 0.01º/sec/√Hz
• Low Accel Noise 0.05mg/√Hz (2g)
• In-Run Gyro Bias 15°/hour 1 σ
• Rugged Environmentally Sealed Packaging & MILSPEC Connector
• Fully Temperature Compensated Bias and Scale Factor
• Compensated Misalignment 1mrad and g-Sensitivity <0.02°/sec/g typical
• External Sync Input (1kHz or 1pps)
• Low Power <430 mW Typical
• Low Voltage +3.3V (single sided power)
• Light Weight 108 grams
• Small Size < 72cm3/4.4in3
• Sensor Bandwidth 140 Hz
• Bandwidth Filtering Capability
• RS485 Data Rate 500 Hz (user selectable)
• Internal Vibration Isolation
• Precision Alignment
• Internal Temperature Sensors
• Export Classification: Commerce ECCN7A994
The unit is well suited for the harsh environments of commercial automotive and motorcycle testing, motorsports racing, aircraft and sea applications that require both low cost and high performance as well as rugged durability.
---