LandMark™ 21 IMU - 1" Cube Low Noise IMU
Product Announcement from Gladiator Technologies, Inc.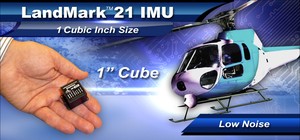 The exceptionally small size, light weight, low power and very low noise LandMark™ 21 IMU is a 1 cubic inch IMU outputting delta theta and delta velocity (vertical gyro option also available). The unit offers application versatility for users with space constraints yet provides outstanding performance enabled by our low noise gyros and accelerometers.
The signature feature of the IMU is the low noise gyros and accels, which enable precision measure-ment with excellent bias in-run and bias over temp-erature performance. An FEA designed internal vibration isolator combined with environmentally sealed packaging provides users with a robust, ultra small and light weight micro IMU.
Download 1 Cubic Inch IMU Datasheet
Features:
• LandMark™ 21 IMU - 1 Cubic Inch
• Vertical Gyro Option Available
• Low Gyro Noise 0.004°/sec/√Hz (100°/sec)
• Low Accel Noise 0.25mg/√Hz (6g)
• In Run Gyro Bias 10°/hour 1σ
• Rugged Environmentally Sealed Packaging
• Fully Temperature Compensated Bias and Scale Factor
• Compensated Misalignment 1mrad and g-Sensitivity <0.02°/sec/g 1σ
• External Sync Input (1kHz or 1PPS)
• Low Power < 330mW typical
• Input Power +3.3V (single sided power)
• Light Weight 28 grams
• Small Size < 16.4cm3/1.0in3
• RS485 Data Rate 500 Hz (user selectable)
• Bandwidth Filtering Capability
• Precision Alignment
• Internal Vibration Isolation 6 gRMS
• Shock Resistant 500g's
• Internal Temp. Sensors
• Self Test
• MTBF 124,334 hours (per MIL-STD-217F) see datasheet for details
• Export Classification: Commerce ECCN7A994
The IMU's performance is optimized with fully temperature compensated bias and scale factor and compensated misalignment and g-sensitivity. The unit is well suited for the harsh environments of commercial automotive and motorcycle testing, motorsports racing, commercial aircraft and marine applications that require very small size, light weight, and low power combined with high performance as well as rugged durability. The LandMark™ 21 IMU offers outstanding performance and versatility for users that have challenging packaging and weight requirements. Other ranges available (consult factory).
Please click on the links to the right or contact Gladiator Technologies today!
---