Glebar Plastic-Forming and Grinding Machines
Product Announcement from Glebar Company Inc.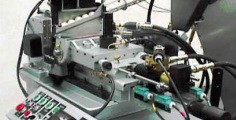 SUMMARY

The PG-9BHD machine is a hydraulically driven machine designed to shape multiple spherical or cylindrical components from a variety of materials ranging from wood to soft ceramics. Plunge grinding is a process that dates back to the 1960s for Glebar and is a staple in the product line. The machine has been configured to grind a massive variety of shapes; in fact, one could find a product that has been processed by a Glebar machine in almost any home.

This workhorse is built to handle up to 15HP motor spindle in a small footprint. The twin grip spindle is stiff enough to handle challenging pressures. The low maintenance hydraulic drive unit consists of a 2 HP motor and a variable displacement pump, which supplies enough oil for maximum performance while reducing operating temperatures preventing overspeeding of the regulating wheel. The upper and lower slides are hard chromed and dovetail ground using Tucite coated gibs for maximum wear protection and positional stability over time.

The machine work head is designed so that a grinding wheel can be changed in under 15 minutes. Shaping of the work wheel can be performed on the machine using a dressing attachment directly on the machine or by using an offline dressing system we offer - see DM-9 CNC page

Golf balls, deodorant balls, felt tip pens, wooden hair brush bristles, drumsticks, billiard balls are just a small sampling of the infinite variety of components this machine is able to produce. Materials processed can be as soft as foam and as hard as granite.

A PLC controls the basic machine sequencing and autoloading attachments but please refer to the PG-9DHD for a high precision version.
KEY FEATURES
Multiple components per cycle.

Up to 10-1/8 " (257mm) usable grinding area.

Oscillating regulating wheel for improved sphericity on ball forms.

Hydraulic variable speed regulating wheel drive.

Hydraulic slide positioning.

PLC driven control.

Simple wheel removal and replacement.

Built in dressing capability.

Extensive selection feeding systems.
SPECIFICATIONS
Diameter accuracy: +/- 0.001" (25 microns)

Roundness: +/- 0.001" (25.4 microns)

Grinding Diameter: MAX 4" (100mm) - MIN 0.002" (0.05mm)

Grinding Length: MAX 10" (254mm) -

Wheel Size: 9" x 10.125" (229 x 210mm)

Work Wheel Spindle Power: 7.5 (5.5kw) - 15HP (11kw)

Work Wheel RPM: 2375

Regulating Wheel Power: 2HP(1.45kw)

Regulating Wheel RPM: 10 - 400

Play Glebar Plastic-Forming and Grinding Machines Video
---