Guide Wire Gauging System
Product Announcement from Glebar Company Inc.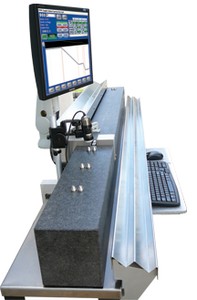 Glebar Company Inc. - The P4K is the latest technology specifically designed for guide wire manufacturing. This unit will eliminate the bottleneck in the production line due to its high performance capability of accurately gauging at a staggering 3" inch / second (75 mm / second).
2400 samples/second high-speed sampling non contact micrometer.
Ultra smooth linear motor with a 1 µm (0.00004") glass scale feedback.
Mounted on a granite surface for maximum thermal stability.
Linear motor delivers precise motion. Up to 40" (1 m) stroke measuring long wires in one single scan.
Unlimited zooming. Use cursors to directly measure point to point on the screen.
High speed hard real-time data acquisition better than 10 kHz for improved length repeatability of 0.000300"(300 millionths)
Fast scanning 3"/sec (75mm/sec).
0.04 mm (0.0016") smallest measurable diameter up to 6 mm (0.24") largest measurable diameter.
Diameter repeatability: ±0.06µm (± 0.000002").
Diameter Accuracy : ±0.5µm accuracy (±0.00002").
Diameter Resolution: 0.01µm (0.0000004").
Simple programming and operation.
Key Features
Scanned data is stored in an MS Access database.
Interface to your favorite SPC software package, or export to CSV files and open with programs such as Excel or Minitab.
Results presented with clear Go/No-Go graphic indicating out of spec features clearly.
Templates as easy as specifying length and diameter nominals and tolerances. Point to point dimensioning, no tolerance stackup.
Templates can be defined to gauge shapes such as parabolas or arcs,bumps located anywhere on the wire.
Supports multiple languages: English, French, German, more languages possible...
Supports any combination of English and Metric units (inch, cm, mm).
---