Micro-Grinding System - CAM.2
Product Announcement from Glebar Company Inc.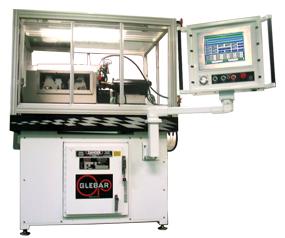 Glebar Company Inc. - Cam 2 the latest contribution to the micromachining industry is capable of grinding threads, ball shapes, flats and an unlimited array of geometries from Stainless Steel, Nitinol, Platinum Iridium wire, composite materials etc..

Now available in dual mode. OD and Centerless for the production of guidewires to length tolerances of better than 0.001" and diameter tolerances of 0.0001".

The only commercially available guidewire grinder designed to produce practically any shaped wire. Direct interface from CAD/CAM to machine with fully integrated multi axis servo controller. Unique wire transfer mechanism processes an unlimited length of wire while maintaining geometrical tolerances.

Built on an 8" thick granite base, the machine incorporates the latest in motion control technology. Utilizing servo drives and micron position scales, positioning on the machine is unmatched producing accuracy's in both length and diameter of less than 0.00005" of an inch.

The system also includes an automatic CNC dressing system which is capable of automatically compensating for size variations with canned dressing cycles.

Reduced machine setup is one of the advantages of this machine with setup turnaround of less than 1/2 hour during wire diameter changes. Tooling is comprised of only 3 components which can be changed rapidly.

The control has built in networking, and includes 3 levels of password protection. Full control of all motion from the touch screen NEMA rated control.

Play Micro-Grinding System - CAM.2 Video
---