Engineered Air Systems & Heat Processing Solutions
Product Announcement from Glenro Inc.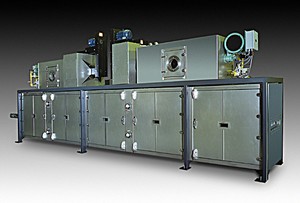 Whether you process coated webs, fabrics, parts or other products, Glenro can design, engineer and manufacture Proven Solutions® for your process heating application which will outperform other conventional industrial heating systems.
What separates us is our ability to integrate additional technologies to produce more product in less space. Some of these technologies are listed below:
HVIR – Combines our RADPLANE® infrared heater technologies with conventional impingement air system designs to address limited space or to produce more line speed per unit length
Make Up Air – Glenro can provide make up air handlers to replenish the direct exhaust of a new process air dryer and help prevent existing facility HVAC systems from being overloaded
Moisture Control – Humidity control of the process air stream can be critical – whether you need to properly exhaust it, humidify it or dry it, we integrate the proper technologies to manage and control the grains of moisture entering and exiting the system
Pollution Control - For solvent based applications requiring pollution control technologies, we can integrate a thermal oxidation system with or without secondary heat recovery to satisfy all the demands of the process. The system illustrated was serviced by a Glenro Thermal Oxidizer.
Equipment Solutions:
Engineered Hot Air Industrial Dryers and Ovens
Please Contact Us to put our process experience, versatility and design capabilities to work for your application.
---