Flatbed Laminating Machines and Process Lines
Product Announcement from Glenro Inc.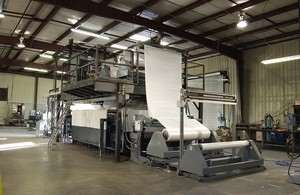 Flatbed lamination is a method of lamination for roll goods and sheets that utilizes dry thermally activated adhesive systems that do not require long drying/curing tunnels to process. Instead, heat is quickly conducted through two opposing pressure-loaded belts into the laminate to heat activate the dry adhesive web, powder, or film layer without the release of any volatiles or smoke. It is the simultaneous application of heat and pressure activating the adhesive that makes flatbed lamination so successful in producing high performance bonding.
Glenro's flatbed laminating systems laminate a wide variety of materials such as fabric, nonwovens, metal foils, foams, composite panels and rigid products in a surprisingly small space.
Please visit our website for more information on our Flatbed Laminating Machines and Material Handling Equipment, such as Unwinds, Rewinds, Powder Applicators and other relevant web and sheet handling equipment.
ConLam™ - Glenro's Contract Laminating Services
Many Glenro customers have used Glenro's ConLam™ laminating service prior to buying a Glenro flatbed laminating machine. You can first run your materials on our pilot lines so you'll know exactly how a Glenro flatbed laminating machine or line will perform for your application. There's nothing like optimizing your laminating process before your machine is manufactured to insure you get precisely the Proven Solutions® that you need.
---